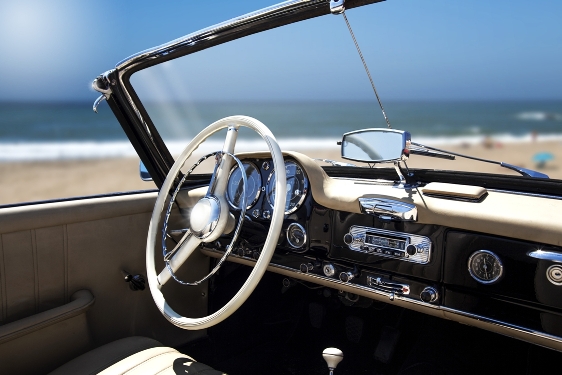 Cruz Classic Radio - classic car radios
A quick summary:
At Cruz Classic Radio we do car radio repair. Upgrades too. Almost all vintage car radios, antique car radios, classic car radios can be made to work again as if they were new, even tube radios. We do not repair the cassette or 8-track mechanism, since parts for those are often extremely difficult to find. However, we will make the radio portion work like new. Then you can convert all your old 8-tracks and cassettes to MP3 and play them via your new Audio-In jack. No more tapes slipping or jamming (or getting eaten!)

We will repair and re-calibrate your antique auto radio, and install the tiny Aurora Design FMC board into it, turning your retro radio into an AM/FM radio, with Audio-In jack for MP3s etc, keeping your vintage car, antique car or classic car radio all-original, still mono, yet much more practical, with a dial full of FM stations and with Audio-In and super-clear sound.

...Or we can completely replace the electronics inside your old auto radio with a 21st century stereo conversion, including Audio In jack. Add-on options are available: Bluetooth and/or USB.
Click here to find out more about our classic car radios